UI/UX Best Practices and Design Principles
Anna|8 min. to read
UI
UX
UI/UX Best Practices
The demand for UI/UX specialty increases yearly, and so it does in 2022. Following, the need for professional user interface and user experience designers grows as well. Companies are more in favor of hiring specialists with creativity, knowledge, and experience. For that reason, we have gathered UI/UX best practices for you to gain more understanding and practice it in real life.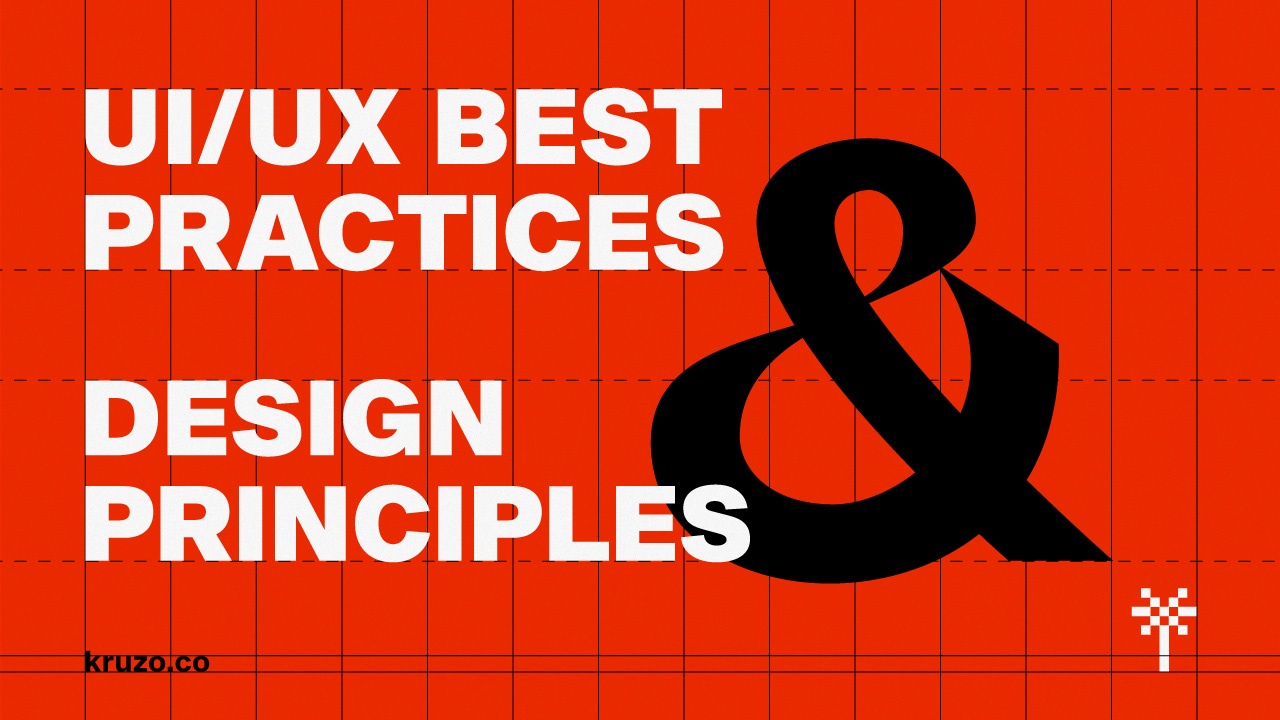 The Importance of UI and UX Design
In the 21st century, one cannot imagine an effective and usable online product/service without a website, and hence without UI/UX specialties and high-qualified UI/UX designers. Currently, as the competition is large in the sphere of UI/UX, one should put some effort into making their website authentic so that customers have the desire to click precisely to your website within your industry.
In order to provide user satisfaction via a mobile application or a website, you should turn to the User Interface (UI) and User Experience (UX) design. Lots of users are searching for applications and websites that look attractive and are user-friendly. Thus, you will need a combination of UX and UI here to offer customers the best experience while using your application/website.
A good UI will help the website look more appealing, while a thoughtful UX will leave an impression on your user's experience. Therefore, it is essential to know UI/UX best practices in order to make your website successful.
In addition, UI and UX design principles play a crucial role in achieving higher sales and growing your business, which is the primary goal of every company. Also, UI and UX design have become more significant for startups and small businesses, as the first impression lasts long, and thanks to the UI/UX, you can make your brand stand out in the digital world.

If done professionally and creatively, UI/UX can lead to customer satisfaction, which, in its turn, will lead to an increased number of product/service users.
UI Best Practices
Now, let's explore some of the UI/UX best practices; in particular, get acquainted with the best UI practices that will help you develop your product and generate more leads.

Keep it simple
Often, we see interfaces of websites and applications complicated enough to generate confusion among users. No one would want such a website that repels the visitors, as the bad experience they had on some website will stay in their minds for a long time. Hence, try to keep the user interface simple but not oversimplified. Also, take into consideration that users visiting your website have different technical understanding levels, and they can perceive it differently.
Keep consistency
Keeping consistency is at your brand's core, therefore for your user interface and brand image likewise. Make sure to always use the same elements while building your website/app, including the fonts, button styles, colors, etc. Try to use no more than two fonts, one for the headings/titles and another one for the standard texts. Correspondingly, limit your color palette to 4-5 colors throughout the design.
Be empathetic
While creating the user interface, you should try to make an emphatic design, meaning you should get to know your users and understand their needs. However, this takes time and effort to do. You can use some analytical tools that will help identify your users' behavior and then continue it from a personal level.
Satisfy users' expectations
Most users already have lots of experiences on similar platforms and set some expectations before clicking on your website. So, satisfying those expectations is in the best UI practices and will undoubtedly increase your users' trust. On the contrary, if you don't meet their expectations to be out of the box, your website will be perceived as a regular one.
Solve errors immediately
Errors are an inseparable part of every industry, and it is not an exception in the UI/UX specialty. Be careful, and try to make a website that gives comfort to the customer while using your system. Give them the opportunity to have simple options, such as resetting their password, a login option, or a skip button.
UX Best Practices
The demand for a good and thoughtful UI and UX Design increases year by year, and to keep up with the competition, you should follow the main UI and UX design principles. So, let's get acquainted with UX best practices.


Put yourself in your users' shoes
In order to create a website or application with an excellent user experience, you should be able to see what you make through the eyes of others, not only yours. That will help you look at the product from another perspective and understand which version will work better. Ask yourself: why do they need your product, or will they understand that specific element in the way you wanted it to be understood?
Create a sitemap
Creating a sitemap is essential for the website, as it eases the user experience and helps to categorize your content by creating an adjacent hierarchy. This way, the UX designer and your user can easily understand where to go through the website and find the correct information.
Include navigation tools
As a sitemap helps users to get the correct information, similarly, navigational tools can change the overall experience of your website. It would be helpful to include a header, which will play the role of a navigation bar that stays at the top of every page. Also, put company information at the bottom of your page, which will help visitors find your contact information without an additional search.
Label the buttons clearly
Always put clear labels on your buttons; otherwise, it will generate confusion in users' minds. Try not to use generic words. Instead use words that describe what actions the buttons will perform when clicked. While labeling, write phrases not in the specialized knowledge, as you should consider the difference of the audience coming to the website.
Test constantly
Before launching your website, you should definitely test it in a staging environment, not on a live site. The collected data will help you make the user experience better. However, you should also update your website in the future to keep relevancy. One way is to get live feedback from the users, as they can notice something regarding the product that you may have missed. Then, according to the feedback, make your changes.
Kruzo - Digital Island of Freelance UI/UX Designers
Kruzo is a digital platform on the mission to connect world-class designers with ambitious tech companies worldwide, empowering them to collaborate and create value together.


If you are a freelance UI/UX designer with a professional background, joining our freelance design platform will make you a part of world-class and highly qualified UI/UX designers.


In addition, you will:


Do your favorite work anywhere, anytime, any project-based

Work with international ambitious tech companies

Grow your skill set professionally and personally



Make your first step into the amazing world of freelancing by joining Kruzo now - https://kruzo.co/designer/
Subscribe to our newsletter